User Interface
From Media Center Master documentation
(Difference between revisions)
 

(27 intermediate revisions by one user not shown)
Line 3:
Line 3:
 

{{Side_Bar_-_User_Interface}}

 

{{Side_Bar_-_User_Interface}}

 

</div>

 

</div>

−

__NOTOC__

 
 
 
 
+
 
+
 
+
 
+
 
+
 
+
 
 
−

[[File:101.mcm.gui.6.sectins.png|700px]]

+
 
 
−

==The Media Center Master User Interface consist of seven areas.  These seven areas are:==

+

:

 
 
−

#'''Program Menu Bar'''

+

Program Menu Bar

−

#:Access to the various user settings are obtained through four (4) pop-up menus.  

+

 

−

#:

+

Access to the various user settings obtained through () .  

−

#'''Media Collection Viewing Pane'''

+

 

−

#:Provides the user with a list of all media in the collection, user preference indicator icons, and colored highlights for listings missing meta-data.  

+

#

−

#:

+

 

−

#'''User Interface Viewing Options'''

+

Media Collection Viewing Pane

−

#:Options to change views.

+

 

−

#:

+

Provides the user with a list of all media in the collection, user preference indicator icons, and colored highlights for listings missing meta-data.  

−

#'''Processing Area'''

+

 

−

#:Provides a view of the processing being done in real time.

+

#

−

#::View of output log file.

+

 

−

#::Current process shown above log window.

+

User Interface Viewing Options

−

#:

+

 

−

#'''Meta-Data Viewing Area'''

+

Options to change views.

−

#:Graphical representation of meta-data for a selected listing.

+

 

−

#:

+

#

−

#'''Indicator Status Lights'''

+

 

−

#:Identifies what process is ongoing.

+

Processing Area

−

#:

+

 

−

#'''Right Click Context Menus'''

+

:Provides a view of the processing being done in real time.

−

#:One for series processing, and

+

::View of output log file.

−

#:One for episode processing.

+

::shown above log window.

 
+

 

 
+

#

 
+

 

 
+

Meta-Data Viewing Area

 
+

 

 
+

Graphical representation of meta-data for a selected listing.

 
+

 

 
+

#

 
+

 

 
+

Indicator Status Lights

 
+

 

 
+

Identifies what ongoing.

 
+

 

 
+

#
---
Latest revision as of 04:39, 25 October 2011
Media Center Master's Wiki Editing Guide
      

Internet Explorer users need to change the "Document Mode" setting from Quirks Mode to a Standards Mode to view the full contents of this page.
IE8 and IE9 - Tools>(F12) Developers Tools>Document Mode, wait for the change in left viewing pane, close Developer's window.
The current version of Media Center Master is 2.05. There are major changes to the program as to how it is represented in the wiki. The changes are on going and makes it difficult to up date the wiki.

As of December 11, 2012, for premium licensed users, only, Media Center Master has it's own, private, NZB Indexing Site. There is no additional account registration required to use the indexing service with Media Center Master. A complete Quick Set-up: Premium Version, Usenet Downloads guide is available in the wiki.

The biggest change in Version 2.04 took place were the "log," and "media summary" viewing area use to be. After adding media and clicking on a title from the media list, several tabs (i.e., Log, Summary, Metadata, and Files) will appear in the right side pane. More tabs are scheduled to be added in the future, such as: Media Info, Trailers/Subtitles, and a Episode Metadata Editor.

There have also been several changes made in the "Settings and Preferences" tabs. Some new tabs, and new settings have been added. The "Renaming" tab was changed to "Organization," and several of the old settings have been move from one tab to another. None of the settings have been removed from the program.

Version 1.32 is used for the examples in the wiki, unless otherwise noted. Although it may take a bit more work to find some settings, the wiki is still a valuable tool for a new user to get Media Center Master up and running. All of the settings used in the guides for a test run are still available, and should be used as described in the guides.

This is a work in progress, please be patient.

---
Media Center Master
A Free Meta-Data and Media Organization Solution
Navigation
(Red text indicates your location.)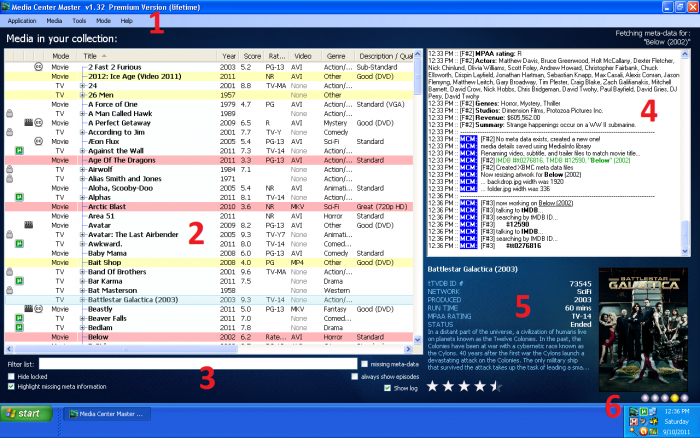 Access to the various user settings and tools can be obtained through the five (5) Program Menus.
Provides the user with a list of all media in the collection, user preference indicator icons, and colored highlights for listings missing meta-data.
Options to change views.
Provides a view of the processing being done in real time.

View of output log file.
Summary of current processing shown above log window.
Graphical representation of meta-data for a selected listing.
Identifies what processes are ongoing.