How to Install uTorrent
From Media Center Master documentation
Media Center Master's Wiki Editing Guide
      

Internet Explorer users need to change the "Document Mode" setting from Quirks Mode to a Standards Mode to view the full contents of this page.
IE8 and IE9 - Tools>(F12) Developers Tools>Document Mode, wait for the change in left viewing pane, close Developer's window.
The current version of Media Center Master is 2.05. There are major changes to the program as to how it is represented in the wiki. The changes are on going and makes it difficult to up date the wiki.

As of December 11, 2012, for premium licensed users, only, Media Center Master has it's own, private, NZB Indexing Site. There is no additional account registration required to use the indexing service with Media Center Master. A complete Quick Set-up: Premium Version, Usenet Downloads guide is available in the wiki.

The biggest change in Version 2.04 took place were the "log," and "media summary" viewing area use to be. After adding media and clicking on a title from the media list, several tabs (i.e., Log, Summary, Metadata, and Files) will appear in the right side pane. More tabs are scheduled to be added in the future, such as: Media Info, Trailers/Subtitles, and a Episode Metadata Editor.

There have also been several changes made in the "Settings and Preferences" tabs. Some new tabs, and new settings have been added. The "Renaming" tab was changed to "Organization," and several of the old settings have been move from one tab to another. None of the settings have been removed from the program.

Version 1.32 is used for the examples in the wiki, unless otherwise noted. Although it may take a bit more work to find some settings, the wiki is still a valuable tool for a new user to get Media Center Master up and running. All of the settings used in the guides for a test run are still available, and should be used as described in the guides.

This is a work in progress, please be patient.

---
Media Center Master
A Free Meta-Data and Media Organization Solution
Navigation
(Red text indicates your location.)

***** Disclaimer -- read this before using Torrent Downloader *****
Acknowledgement
For users who have a current instance of uTorrent installed, and intends to use the Preliminary Installation Guides with the existing uTorrent Program, there will not be any trouble shooting information for errors in these guides, should they occur. The instance of uTorrent for Media Center Master is for automation, it is therefore suggested that the user uninstall uTorrent, through the Control Panel, remembering to tick the optional check box to, also, remove the user settings during the uninstall process, then reinstall uTorrent using the Preliminary Installation Guides. If the option, in the example below, is missed during an uninstall, simply reinstall uTorrent, then uninstall it again. There is no need to reboot the system.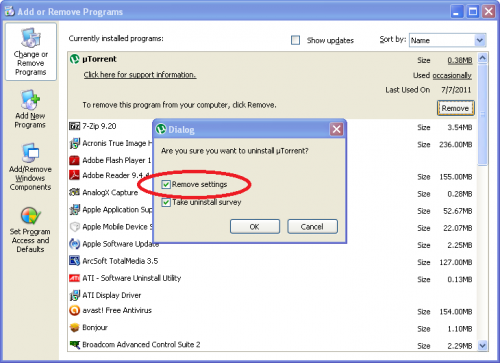 Acknowledgement
This does not mean: "uTorrent can not also be used for manual downloads of TV Series/Movies and other items, at the same time with Media Center Master." It is a suggestion that the automation process should come as a priority over manual downloading. If a user intends to use this instance of uTorrent for Media Center Master along with manual downloads of TV Series/Movies, other items, the user should make additional changes after Media Center Master is installed, set-up, configured, and has completed a first run of Media Center Master with satisfactory results.
Additional Information
uTorrent v1.8 - v3.0.0 have been tested and working correctly with these guides.
Downloads for these versions may be found at either of these sites: uTorrent Site      Old Apps Site
New users not familiar with "BitTorrents," may wish to watch the short video, titled, "BitTorrent, Explained", found through the "See how it works" link, located just below the "Free Download for Windows" link, at the uTorrent Site.
uTorrent v2.2.1 is used for the examples in these guides.
Clicking on an image will bring up a view of the image in it's original size.
Additional Information
These guides are written with the intent of uTorrent to be installed on the system hard drive (C:\) in the same computer Media Center Master is installed on.
Additional Information
The set-ups and installations of the different versions of uTorrent, as a whole, are much the same in each version.
All of the default ticks, options, can be used with Media Center Master.
There are however two possible exceptions, depending on which version is chosen for installation.

The user should make an informed choice regarding extra downloads of files/software to the system by accidentally missing the options (shown below), by systematically clicking on "Next."
During the uTorrent install watch for the following two (2) options:
1st Option - uTorrent's Featured Spotlight Release Download, shown below. After choosing, click next.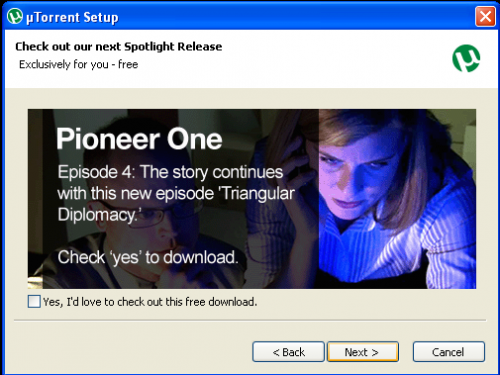 2nd Option - uTorrent's Browser Bar Optional Installations, shown below. Make appropriate choices, then click Install.